Main Page: Royal Quest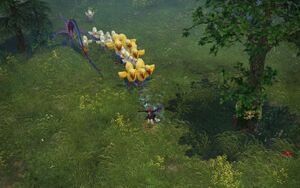 In the Secret Archives of the Office there are stored many documents which, in one way or another, concern the history and times of the Kingdom of Elenia. Among them are to be found records of travelers who have studied this fascinating land. They record the interviews and investigations, and even secret drawings of amazing devices. Our spies have managed to acquire certain of these documents, and uncover part of the mystery that stands under lock and key in the Ministry's heavily guarded tower, where only those authorized by the King himself are permitted entrance.
Forests of Elenia
Travel journal of the Head of the Department of Wandering and Discovery at the World Academy, Master Traveler First Class, Garufa han'Kargarda
Manor
Excerpt from "Miscellany № 313" of the Secret Archives of the Office, sixth investigation department. Record of an interview with a certain carpenter, Jacek, sole surviving witness of an accident on the estate of Baron Carrigan.
Squelchian Swamplands
Excerpts from the travel diary of the Royal Ambassador of the third rank, the Count de Largo Rilya, on his journey through the Squelchian Swamplands, and his encounters with the local residents
Mysterious Obikan
Excerpts from the travel diary of the Royal Ambassador of the third rank, the Count de Largo Rilya, on his journey through the Slobat swamps, and his encounters with the local residents